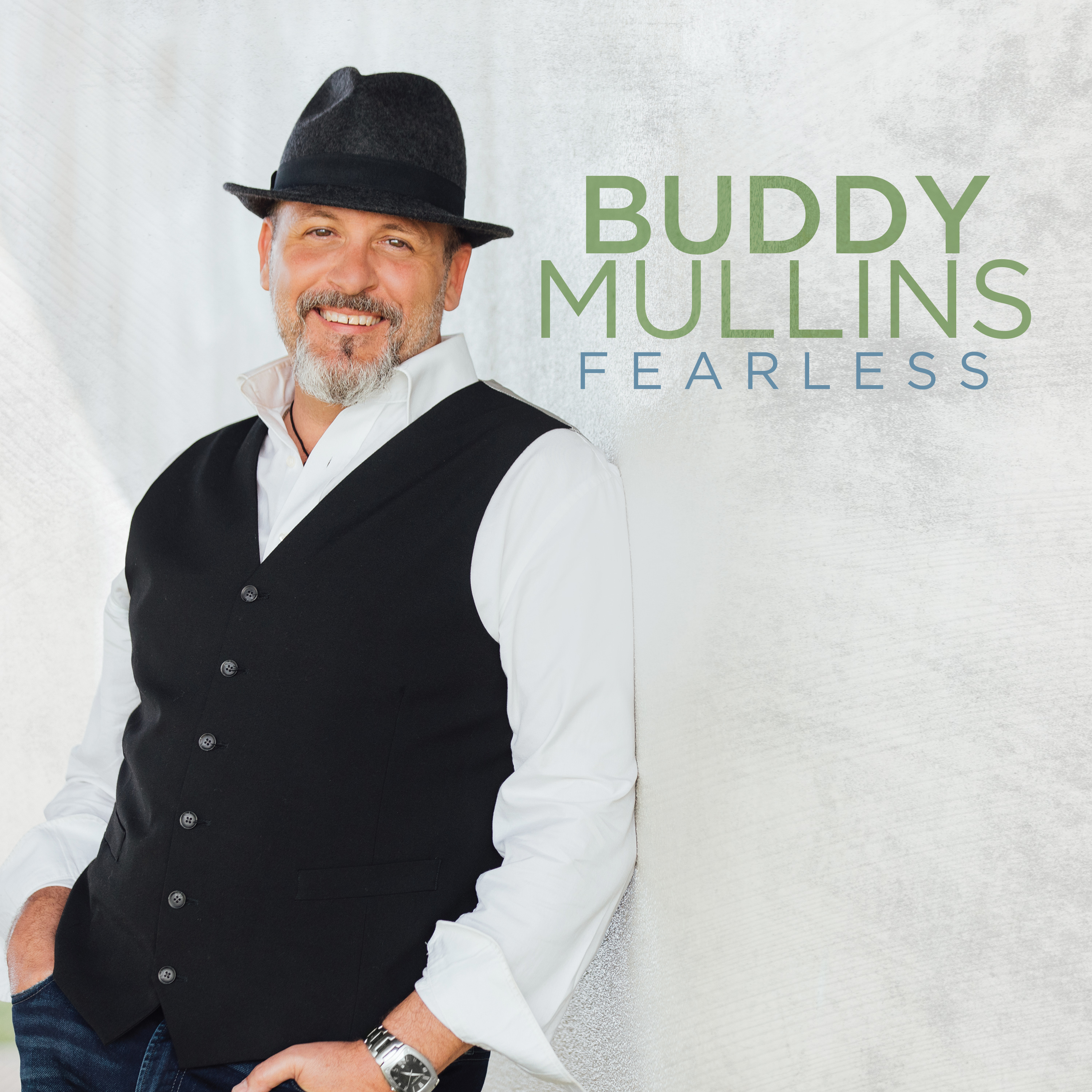 StowTown Records has announced the digital release of a brand new album from singer/songwriter Buddy Mullins. Fearless marks the debut release from Mullins under the StowTown label, and features 12 original cuts penned by Mullins, complemented by the rich, soulful vocals that have made this talented musician so loved by audiences for decades.
Buddy Mullins is no stranger to the gospel music arena. Over the years, Mullins has been featured on the popular Gaither Homecoming Video Series and even traveled as a member of the multi-Grammy winning, Gaither Vocal Band during the '90s. His time with the group earned him an induction into the Gospel Music Association's Hall of Fame. In addition to the Gaither Vocal Band, Mullins has had the privilege of performing with such acclaimed recording artists as Clay Crosse, NewSong, DC Talk, Newsboys, Steven Curtis Chapman and Amy Grant. He has also been featured with noted youth author and speaker, Josh McDowell, and has been a part of the renowned Billy Graham Crusades. Currently a member of the popular vocal group, The Booth Brothers, Mullins' musical gifts and talents, as well as his endearing personality, have made him a favorite among fans and peers alike. 
The completion of Fearless brings to fruition a labor of love for Mullins, who, along with his wife Kerri, has devoted his life to world missions. Mullins serves as CEO of Hope for the World Foundation, an organization committed to sharing God's love for people by providing their basic needs in order to share the love of Christ. The mission, originally born in Albania to provide for the extreme needs of orphans, has expanded to reach the gypsy community, as well as the underprivileged and handicapped residents of Albania. All proceeds from the sale of Fearless will support Hope for the World. StowTown Records President Landon Beene states, "Buddy Mullins is a seasoned veteran of the gospel music industry, and working with him is always a pleasure. His heart for people is evident in both his music and ministry, and the team at StowTown Records is happy to partner with him on the digital release of Fearless." 
The message of each song on Fearless is meant to provide hope. "This project was created from all we have been going through in our world over the past couple of years," Mullins shares. "Realizing that we have not been given the 'spirit of fear, but of power, love, and a sound mind,' is what these songs proclaim!"  
Produced by multi-award winning musician/arranger Jason Webb, each song reminds and encourages the listener that God is in control regardless of life's circumstances. The recording opens with "Moment of Hope," which conveys the triumphant message of hope in Christ. Mullins enlisted his friends, The Gaither Vocal Band, to join him on this particular song, written after the intensity of the 2020 global lockdown and worldwide pandemic. A clear celebration of life, the song proclaims that in every situation children of God can find a moment of hope. "I don't know of a better heart in the field of gospel music than Buddy Mullins. He believes and lives out what he sings," expressed Bill Gaither. 
"This is such a special project for me," Mullins explains, "and I was thrilled to have some very special friends join me to help to make it so special. It meant so much to have my great friends, The Gaither Vocal Band sing with me, and I'm so grateful for my producer and friend Jason Webb, who truly caught the vision for these songs and brought them to life. I'm also grateful to StowTown and Provident for helping us get this message out in a powerful way."
From beginning to end, Fearless conveys the overwhelming message of God's provision, love and protection. "God, who has overcome the world," Mullins states, "wants us to walk fearlessly into the future with the promise that He is there too. I believe these songs will strengthen the spirit and soul of each listener and encourage them to live out loud with confidence in Christ."
Fearless is distributed by Provident/Sony and is available at all digital music outlets worldwide HERE.
Fearless Song List:
Moment of Hope
Hold These Walls
Fearless
I Promise You
Giant Fall
That's Why We Pray
Killer
Here I Am
Learn To Be
Safe and Sound
Love Like You
Trust You
ABOUT BUDDY MULLINS:
Buddy Mullins is best known as an outstanding vocal artist and was inducted into the Gospel Music Association's Hall of Fame for his time singing with the Grammy and Dove Award winning Gaither Vocal Band.  He has traveled and sung his entire life with many Gospel music greats such as Bill and Gloria Gaither, Clay Crosse, New Song, DC Talk, Newsboys, Steven Curtis Chapman, and Amy Grant. He serves as CEO for Hope for the World Foundation, which is a 501(c3) missions organization that is sharing God's love for people by providing for their basic needs in order to share the love of Christ. Most recently, Buddy joined The Booth Brothers.  He and his wife, Kerri, also travel singing and sharing the passion and mission of Hope for the World Foundation. 
LINKS: 
http://www.BuddyMullins.com 
http://www.Facebook.com/BuddyMullinshftw
http://www.Instagram.com/buddymullins 
https://www.youtube.com/channel/UCJitH9hBsZCTnWnbLtk6P3A