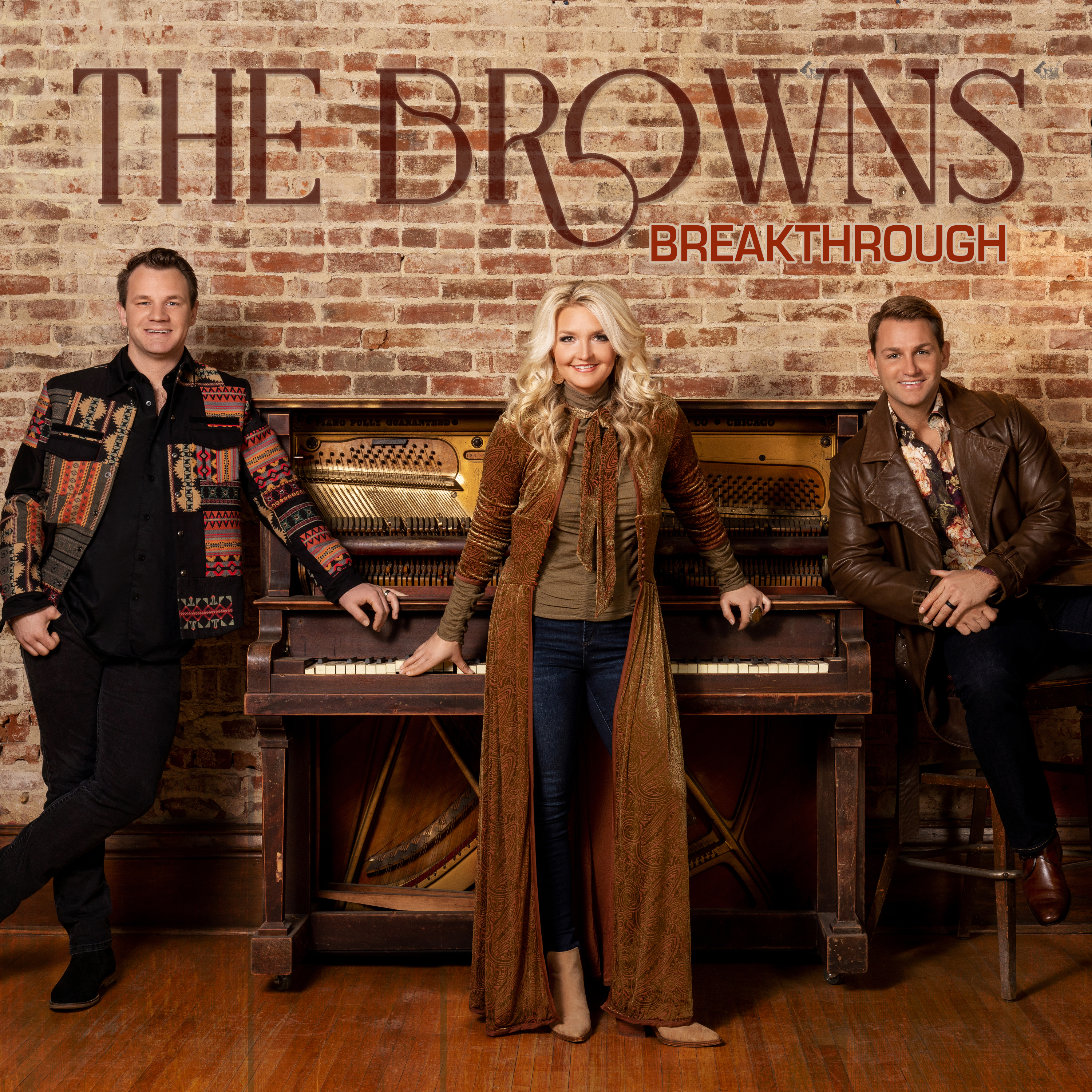 StowTown Records has announced the release of a brand new album from The Browns. Breakthrough features the gifted musical family at their very best, with the moving, rich harmonies and first-class arrangements that have made them a favorite among audiences nationwide. Breakthrough is distributed by Provident/Sony and is available today for download and streaming HERE.
Growing up near the quiet town of Le Mars, The Browns enjoyed the simple pleasures of life on a farm in rural Iowa. Their natural love for music quickly began to capture the attention of the locals and before long, that local attention turned to national acclaim. Over the years, their musical talents have afforded them the opportunity to travel across the country, yet their love for their home community runs deep. A testament to this lies in their commitment to develop the Browns Century Theater, a historic building in downtown Le Mars that the family bought and remodeled just a few years ago in order to present concerts and theatrical events in their hometown. Although the majority of their time is spent at the theater, the group continues to travel nationally, presenting live events in support of new music like their brand new release from StowTown. 
Breakthrough is the eighth recording on which The Browns have partnered with multi-award winning producer and arranger, Wayne Haun. "I remember seeing The Browns for the first time in Owensboro, Kentucky, at a talent contest," recalls Wayne. "They were all kids. In fact, Andrew was so small they had to stand him up in a chair to be seen. I knew there was great potential even then. Here we are some 20 years later, and they are all grown up and hitting a home run every night. Their voices are mature and unique. They have created their own sound that is fresh and commercial. I'm just grateful they let me be a part of the journey." 
The Browns have enjoyed a great relationship with Wayne through the years, and with his guidance, their primary focus continues to be on the songs themselves. "We love making music!" exclaims Michaela Brown. "These songs we chose for the Breakthrough album are songs that we not only love to sing, but also relate to on a personal level. We love the messages they convey, the hope they bring and the joy they spread to those who hear them!"
The debut single, the title cut "Breakthrough," was shipped to radio in January 2023, and quickly made its debut in the Top 50. The success of the single was no surprise as the group has consistently appealed to radio listeners over the years and has enjoyed numerous Top 40 radio hits. Written by veteran songwriters Sue C. Smith, Shane Dunlap and Haun, "Breakthrough" is a song of encouragement to anyone who has ever faced life's challenges. The song's powerful message is complemented by a masterful arrangement that enraptures the listener to a place of confident peace.
In addition to "Breakthrough," the recording is filled with several other original songs from talented writers like Don Koch, Joel Lindsey, Jeff Bumgardner and Marcia Henry, including "Move," a fun song that combines fiddles with the electric guitar on a melodic line – a musical pairing first for Wayne Haun. Don Koch was a big musical influence for many, including Haun, during the 1990s; and so recording his brand new song "No One Greater" is a highlight for all involved. Lyrically, the song celebrates the victory Christ offers during life's storms. And the Browns always feature a classic on their albums. "Try A Little Kindness," originally recorded by Glen Campbell, is sure to become a concert favorite among fans of The Browns. 
For almost 20 years, The Browns have brought pleasure to listeners with their musical talents, rich family harmonies and exuberant on-stage energy. This latest release will no doubt bring listeners even more musical pleasure for decades to come.
Breakthrough Track List:
The Song We Sing
No One Greater
Breakthrough
Try A Little Kindness
My View from the Valley
Move
The Tomb is Empty Now
###
ABOUT THE BROWNS:
It's truly a family affair when The Browns hit the stage with their unmistakable style of gospel music. Michaela, Adam, Andrew and Shelly exude excitement on the stage and offer a life-changing experience to all who hear them. The Browns deliver the powerful message of the gospel through word and song, and captivate audiences of all ages. Known for their fiddle playing antics and vocals, The Browns have wowed audiences around the world. The call to perform has not pushed this Iowa family to move to a big city. In fact, when not performing, they stay busy on their family farm or at their own Browns Century Theater, where they host various artists and shows year-round.
LINKS:
www.thebrownsmusic.com/
www.facebook.com/thebrownsmusic/
www.instagram.com/thebrownsmusic/
www.youtube.com/user/TheBrownsMusic