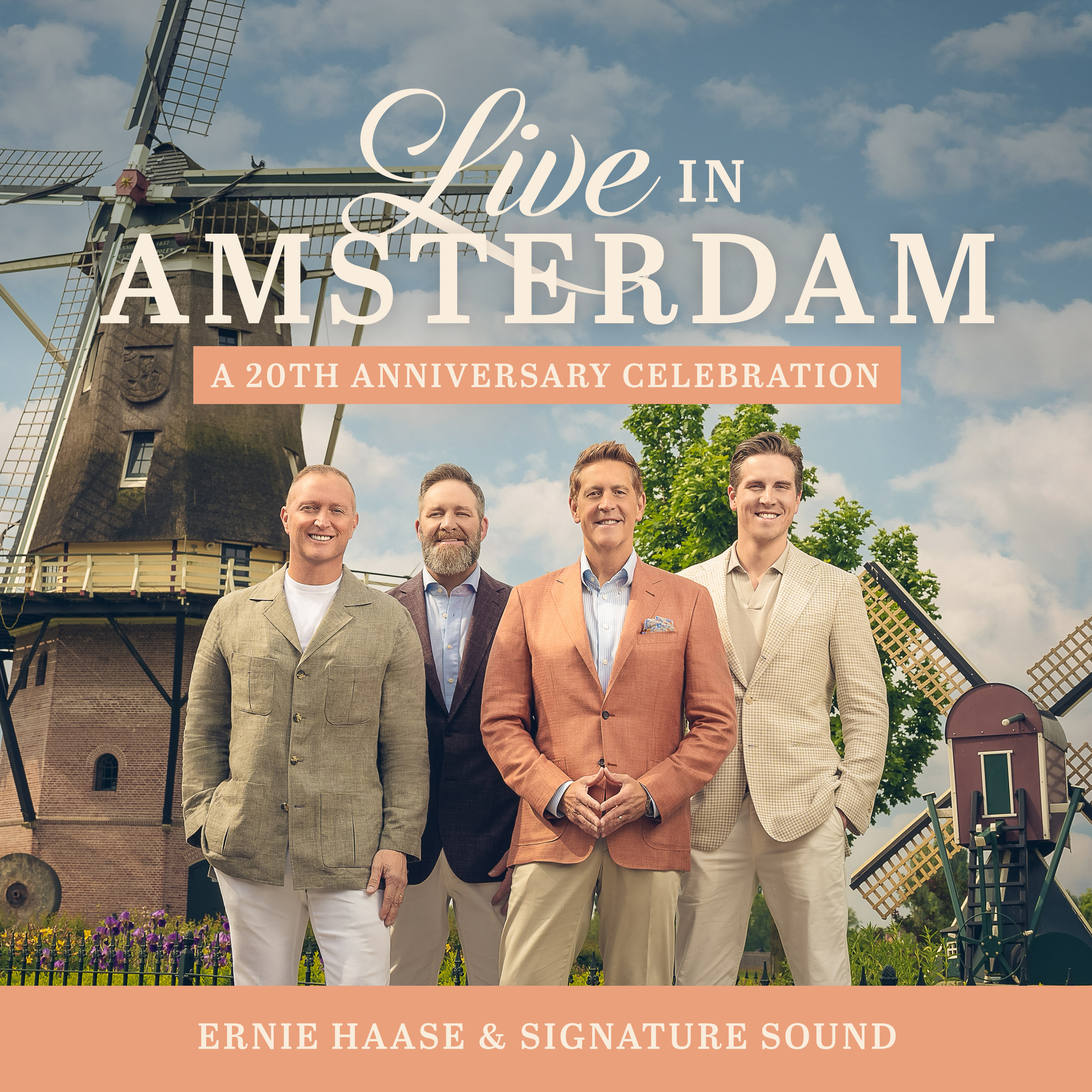 Commemorating two decades of music and ministry, multi-GRAMMY® nominated Gospel leaders Ernie Haase & Signature Sound are set to bow Live in Amsterdam: A 20th Anniversary Celebration August 11. Produced by 39-time Dove Award-winner Wayne Haun and released by StowTown Records—the genre-leading label co-founded by Haase and Haun—the project was recorded before a capacity crowd at Rafaël Evangelism Center in Amsterdam earlier this year.
 
"Overture," a stirring instrumental medley of Ernie Haase & Signature Sound classics, sets the stage for a milestone recording featuring 10 fan favorites spanning the group's iconic career. "They've had more hits over the last 20 years than we could possibly include on one project, so the overture enabled us to add portions of a few more #1 singles like 'I Thirst,' 'That's Why,' and 'The Old Landmark,'" shares Haun, who arranged and orchestrated the piece. "When the overture started in Amsterdam, I was amazed at how the audience began singing along. It's completely humbling to realize the global impact these songs have had."  
 
From "Oh, What A Savior," which Haase has performed for more than 30 years with both Signature Sound and the Cathedral Quartet; to "Get Away Jordan," Ernie Haase & Signature Sound's breakthrough hit, Live in Amsterdam: A 20th Anniversary Celebration also features new arrangements of such group standards as "Reason Enough," "I Know My Savior Cares," and the July 21 digital single "Until We Fly Away," among others.     
 
"Our most memorable moments are always meeting with people after shows and hearing how the songs have helped them in their faith journey," Haase shares. "'Jesus Changed Everything' and 'Sometimes I Wonder' were songs that God greatly used the night we recorded in Amsterdam. While showing us her 'Jesus Changed Everything' tattoo, a lady said to us in broken English, 'This song saved me from a life of deep depression.' Another family shared that their young daughter was recently struck and killed by a car in her neighborhood. They told us how the song 'Sometimes I Wonder' is giving them faith and hope, and they're even asking God for the opportunity to witness to the driver."  
 
"All of these songs have been very, very impactful to the ministry of Ernie Haase & Signature Sound, so we hope our listeners will love the new arrangements of songs they've welcomed into their lives through the years," he adds. "We also hope young listeners will hear a work of 'heart' and art that encourages them to pursue their dreams as we did when we embarked on this journey 20 years ago. Most of all, we want people to listen to these songs and the stories behind them and be inspired to share their redemption story with others. In the end, we overcome by the blood of the Lamb and the word of our testimony (Revelation 12:11). This recording is our testimony of God's amazing grace in and through Ernie Haase & Signature Sound." 
ABOUT ERNIE HAASE & SIGNATURE SOUND
Following a 10-year tenure with the legendary Cathedral Quartet, Ernie Haase was inspired to launch a powerhouse gospel quartet of his own. Signature Sound was born in 2003 and quickly became one of the most beloved and awarded groups in the genre. Southern Gospel radio favorites, Ernie Haase & Signature Sound have four GRAMMY® nominations; multiple GMA Dove Awards; a discography of bestselling recordings; and numerous Gold® and Platinum® DVDs to their credit. Today, the group is comprised of Ernie Haase (tenor), Doug Anderson (lead), Dustin Doyle (lead) and Paul Harkey (bass), and they continue a mission to record and perform compelling music that points listeners to the Hope of Christ. 
 
For further information: erniehaase.com, stowtownrecords.com or turningpointpr.com. 
Follow Ernie Haase & Signature Sound on Facebook, Instagram and YouTube.